Wahl Bravura Lithium Dog Clipper Review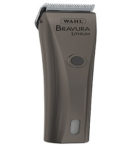 Do you have a dog whose hair is over grown? Have you tried grooming him but his hair gets entangled pretty soon? If you have experienced such a situation, Wahl Bravura Lithium dog clipper is what you should try out. This article enlightens you about how to use the clipper, various Wahl clipper varieties and how to maintain them.
As a caring dog owner, you should regularly trim your pet. It keeps him neat and confident to interact with other dogs. Clipping prevents matting and it also prevents debris from being entangled. You can do it at home, or if you are inexperienced, you can consult a certified groomer. Follow the following steps when grooming your pet with the Wahl Bravura clipper.
| Feature | Description |
| --- | --- |
| Battery Type | Lithium ion battery |
| Motor Speed | 5500 SPM |
| Blade made in | Germany |
| Clipper made in | Hungary​ |
| Product Type | Cord/Cordless |
| Warranty | 1 year |
How to Use a Wahl Bravura Lithium Dog Clipper
Follow the following steps when using the Wahl dog clipper.
1. Assemble The Tools
Choose a high-quality clipper: There are a variety of dog clippers being produced by various companies. However, most of them may not groom your dog's thick coat properly. Clipping Akita, Labrador, and Collie dog breeds require an efficient clipper when grooming them.
You can consult a clipper store employee to find the best clipper which suits your dog. A high-quality set would cost about $150.The blades should be interchanged, removed and re-sharpened after a given period. It prolongs their durability.
Use a 5 or 4FC Clipper blade: Many quality clippers usually have No.10 blades. They effectively trim long-haired dogs. Clippers' Blade numbers indicate how well they cut hair since a high number shows that it makes a short cut. A No.7 blade might pull the dog's skin in between the teeth hence causing cuts and tears. You should, therefore, select one that is marked FC since it has a finish cut. Using a skip-tooth blade could pull and tear the skin if it is mishandled.
Choose thinning and blunt-edged shears: It is not possible for one to use clippers around the feet, eyes and private parts. If you are inexperienced, it is recommendable that you use blunt-edged shears. In case a dog jerks suddenly, he could easily get injured by a sharp edged shear.
Thinning shears are efficient as they trim a particular spot instead of the whole area covered by the shear blade. It prevents you from cut a huge portion of fur. If you want to give your pet a quick groom, just use the shears on target spots and skip the Clipper's cut. You should not use scissors on the whole body if you want to trim the dog's full coat. It consumes a lot of time, and it also increases the probability of a dog being hurt by the shears.
Do not shave your dog: You should never completely shave your dog's thick coat even if it's during summer. About 1 inch of fur should be left depending on the dog's breed. If you have never trimmed him before, consult a certified groomer.
2. Clip the Dog's Coat
Trim the dog when he is relaxed: The best time to groom a dog is when he is worn out such as after playing. Train him to like being trimmed by giving him a treat each time you brush, trim or bathe him. Before you start clipping, calm him down by caressing him tenderly. Always ensure that you are in a happy mood and try to make grooming sessions short. It prevents him from being distracted.
Brush the dog's coat: Ensure that the skin is free from debris and matting before trimming it. Use the brush which your dog loves most. If the dog has just bathed, it is recommended that you blow dry the coat until it is dry. Avoid burning the dog by using a warmer setting.
Clip the dog's body with the hair's lay: After switching on the Wahl clipper, run their blades over the dog's body from the back towards the head. Ensure that its temperature is moderate to avoid burning the skin. As you do so, move the hair's lay for optimum results. Keep the dog still by holding him gently with your free hand. Constantly remove trimmed hair to avoid over-clipping.
Clip the belly and the front legs: Clip the area where the stomach meets the front legs and the upper parts of the legs. Guide the feet to where you intend to trim and lift each one at a time with your idle hand to have a clear view of its belly. Trim the lower parts of the legs with thinning shears.
Trim the dog's rear and hind legs: Carefully clip the back legs from top to bottom. Gently cut his back with shears to prevent particles from getting stuck in his fur when he baths. Use Wahl Lithium clippers when clipping the thighs and hunches but clip his tail, lower legs and private parts using shears.
3. Use Shears for Details
Trim the face: Gather away hair from the dog's eyes using a comb and hold it with your fingers as you trim below and above them. Ensure that you make a straight and even cut around each eye. Be careful when trimming around the face using sharp-edged shears.
Clip excess fur at the rear and tail: Try to cut close to the skin at the tail's base and leave hair as you get close to its end.
Wahl Bravura Clipper Blades
Wahl lithium clipper uses a 5 in 1 blade system which eases its usage. It has a cleaning brush, oil, combs and a blade guard which keeps them in position when not in use. They don't overheat during grooming.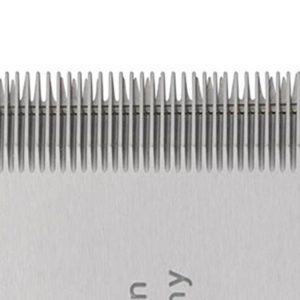 Wahl Bravura Reviews
Bravura online reviews from different clients testify about its dog and user-friendly features. It makes it be among the ​most preferred dog clippers.
Wahl Bravura Lithium Dog Clipper
Bravura online reviews from different clients testify about its dog and user-friendly features. It makes it be among the most preferred dog clippers.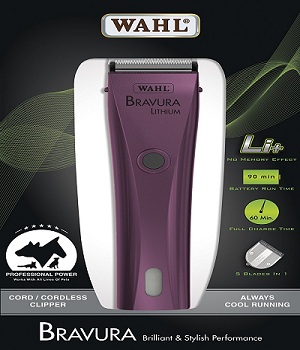 Wahl Bravura Lithium Dog Clipper
Read This Advantage & Disadvantage Before Made Final Decision
Pros
checkThe clipper has a decent motor and a top speed system.
checkThere are several designs which offer a variety of blade options.
checkIt is dog-friendly as it lacks vibrations, noise, and heat.
Cons
checkThe clipper has only a fast speed setting.
checkSome parts are hard to handle.
Wahl Bravura Lithium Ion Cordless Clipper
The cordless clipper increases maneuverability, and it facilitates a high-quality and user-friendly performance. It uses lithium-ion batteries, and it has a charging stand for quick recharging which provides adequate power that can trim ten dogs in a single session.
Wahl Bravura Lithium Ion Cordless Clipper combines the power and durability of the innovation of the lithium-ion battery and the unsurpassed cutting performance of the '5 in 1' adjustable blades to give professionals the power they need in a Silent and lightweight wireless trimmer.
The Wahl Bravura Lithium Ion Cordless Clipper is designed for long operating times of 90 minutes and operates at full speed until the battery runs out completely. With a full and fast 60-minute charge time and the ability to use the clipper as a wired unit while charging, hairdressers should not worry about losing trim time.
This hair clipper is ideal for dogs, cats, horses and cattle. Strong enough to hold dogs from small to medium size, but quiet enough to cut the ears of horses more sensitive to noise.
Specifications:
The hair clipper has constant speed control
 The Wahl Bravura Lithium Ion Cordless Clipper r have 90 minute operating time with 60 minutes of full charge time
Wahl Bravura Lithium Ion Cordless Clipper  has '5 in 1' blade technology, the hair cutter adjusts the blade to sizes 9, 10, 15, 30 and 40
The hair clipper is durable, lightweight, quiet with little vibration and no maintenance.
The Lithium Ion Hair Cutter without memory battery prevents overcharging, overheating and only consumes the energy it needs to charge.
Wahl Bravura Mini
The Wahl Bravura Mini provides users up to 100 minutes of cordless operation and comes equipped with a #30 fine cut blade. The Wahl Bravura Mini is quiet and lightweight, making it perfect for trimming ears and faces on noise-sensitive animals.
Product Application
Ideal for trimming faces, ears, and paws on pets and muzzles and ears on horses.
Conclusion
When planning to trim your dog at home, purchase the Wahl Bravura lithium dog clipper for high efficiency. It is sold at an affordable price, and it does not irritate dogs. In case you have never used it before, keenly go through its manual guide.
You ​Might be Interested:
Best Dog Nail Grinders Reviews & Buying Guide
SportDOG Field Trainer SD-425 Training Collar Review
Andis 22360 AGC Super 2 Speed Professional Animal Clipper Review
Watch the video for Learning how to Use

wahl bravura lithium clippers