PetSafe YardMax Rechargeable In ground Fence : PIG00-11115 Review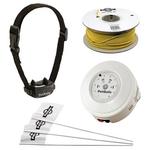 Pets give us the best company. Sometimes they can be adventurous and reach places they are not supposed to go like garden areas or pools. As a pet owner, it is crucial to protect your pet and ensure that they play in safe areas. You can create a good containment system for your pet with the PetSafe YardMax Rechargeable In ground Fence. This is an affordable fence from a top brand on the market.
It allows you to come up with a boundary of 1/3 acre to maximize the play area of your pet. As compared to other traditional pet fences, this one doesn't limit your pet the play area. This is because it corrects your pet after crossing the boundary, meaning that they will have 30% more play area.
Important Features of PetSafe YardMax Rechargeable In ground Fence – PIG00-11115
The fence provides a secure place for your pet, and it is very easy to install. After installing the fence, you also need to train your dog for about two weeks with the help of the professional guide. Once you train your dog, nothing much to do; your dog can play, and you can live happily without worrying about the safety of your pet.
Rechargeable Collar and Low Battery Indicator
It features a quick-charging battery that in less than 3 hours, and the battery can last up to three weeks with a single charge. When the battery is low, it has a red light on the collar that blinks to alert you that you need to recharge the battery. Therefore, you don't have to guess when you need to charge the battery.
The collar is also lightweight and easy for your pet to carry. It weighs around 2.8 ounces, and it is also waterproof. This means that it can perform well regardless of the weather condition.
This is an outstanding feature of this unit that helps you know when the collar fits perfectly to keep your dog comfortable. It is designed to fit small pets from 5 pounds, and it adjusts the size of the neck from 6- 28 inches. Therefore, depending on the size of your dog, you can make the right neck adjustments for a comfortable fit.
Static Free Reentry and Surge protector
This pet fence differs from other traditional models because it doesn't limit your pet. It gives your pet the chance to go back home without correction if it passes the wire. It also features an efficient surge protector that protects the transmitter when there is a power shortage or lightening.
Many of the wired pet containment systems that you will find on the market work in line with the boundary line. However, this model starts correction beeping immediately your dog gets outside the fence. And it will keep beeping indefinitely.
It provides your dog with maximum space as compared to the traditional fences. The fence is also suitable for small yards. Having this fence gives pet owners peace of mind because it features an endless boundary that trains your dog to avoid running through the perimeter.
You can enjoy up to 5 correction levels and customize the right level depending on the behavior of your dog. The shocks range from strong to medium, and they ensure that your pet is always in the safe zone. You can select these levels easily using the on and off buttons included.
Inside and Outside Correction Zone
This pet fence allows you to make correction zones both inside your home and in play areas. You can set up to three zones, which include PetSafe indoor zone, paws away mini pet barrier, and paw away outdoor rock. This means that your pet will not go to certain areas like the trashcan or dining room, among others. Additionally, you can expand this unit up to 10 acres.
Frequently Asked Questions
Q: Is the battery replicable, and can I find replacement batteries?
A: The battery is not replaceable, and it can last for up to three months. Replacements for the collar are easily available online just in case it breaks.
Q: Does the unit have an alarm system in case a rodent chews through the wire?
A: Yes, it has. If there is any wire breakdown, the alarm will go off.
Q: I live in a place where there are rocky grounds, so it can be hard to install the fence underground. Is it possible to install it above the ground?
A: Yes, you can install it above the ground. I have this fence, and we have installed it above the ground covering almost one acre of land, and it works well.
Q: Does the battery have a backup for power outages?
A: Good question. The main aim of a pet fence is to train your dog not to go near the wire, so most dog fences don't need battery backup. When your dog is well-trained, then he will not go near the wire. In case of power failure, you don't have to worry because your dog is trained, and it has no reason to leave.
Keeping your pet safe is essential, and it gives you peace of mind. The PetSafe YardMax Rechargeable In ground Fence makes a good containment system for your pet. It ensures that your pet stays in the right places while providing a large play area. This unit is equipped with a wide range of features. I hope after going through this review, you will consider trying it, and you can live happily with your pet.