The Best Dog Nail Clippers Reviews 2018 ~ Buyer's Guide
Do you have a dog which has long nails? Are you wondering how you can clip them?
Are you willing to do it by yourself or you will have to consult a veterinarian?
If you are in such a dilemma, this article is geared towards helping you. It highlights the nail clipping process, how to choose a dog nail clipper, the best dog nail clippers for small and large breeds.
Trimming a dog's nail is an important task. It improves its appearance and protects its nails from frequent breakages. Extremely long nails can change a dog's walking style which could result to join and bone malformations.
Top 5 Best Dog Nail Clippers - Comparison Table
| Name of Dog Nail Clipper | Quality | Rating | Image of Nail clipper | Checkout |
| --- | --- | --- | --- | --- |
| Dremel Pet Nail Grooming Tool | A | 4.4/5 | | Check Price |
| Safari® Professional Stainless Steel Nail Trimmer | A+ | 4.6/5 | | Check Price |
| Epica Professional Pet Nail Clipper | A+ | 4.7/5 | | Check Price |
| SimplyPets Pet Nail Clippers | A | 4.7/5 | | Check Price |
| Andis Pet Animal Nail Clipper | B+ | 4.6/5 | | Check Price |
Top 5 Best Dog Nail Clippers Review
The following are rated as the best dog nail clippers by clients.
1.
Dremel ​Dog Nail Trimmer
Before using this nail trimmer, one should first make the dog get used to it. A dog may take up to three weeks before being familiar with the vibrations and noise made by Dremel trimmer. If its paws have long hairs, use an old cloth to prevent the hair from getting entangled in the trimmer. The coat should also be covered from the grinder so that it doesn't get caught. While using it, the dog should be firmly held onto a grooming table.
How to use Dremel Pet Nail Grooming Tool
Assemble and secure sanding stones and sanding bands onto the trimmer. Adjust its speed based on the quality and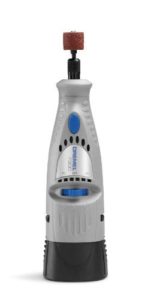 size of a dog's nails, the sanding stone or sanding band's grade being used. You should start with the low speed, especially for small breed dogs. Large dogs need high speed due to their thick nails.
Firmly hold the dog's toe and steady its nail against vibrations. If you want to extend the nail slightly, you should squeeze it gently. Switch on the grinder and move its sanding drum onto the nail's tip. It should spin away from the dog's direction. Don't keep the trimmer against a nail for more than four seconds. It could heat up the nail and cause discomfort to your dog.
Trim one nail at a time allowing them to cool down. If one push down the grinder on the nail as it will heat the nail and stop its safety mechanism which prevents hair from being torn if it is entangled in the trimmer. When trimming dogs with light nails, you should stop about half an inch from the quick. If a dog has dark nails, stop trimming them when you see a dark spot on the trimmed section. It is the beginning of the quick.
2. ​Safari Professional Nail Trimmer For Large ​Breeds
The safari professional stainless steel dogs nail trimmers are produced using the greatest quality stainless steel to present a dependable, sharp forefront. Nail clipping should be a regular piece of your pet's prepping. It's miles crucial for your pet's prosperity to keep the nails correctly trimmed. Make sure to familiarize your pooch to having its nails trimmed at an early age to make the revel in a charming one and increment the bond among you and also you domestic dog. It's far important to your puppy's prosperity to maintain the nails correctly trimmed.
Tremendously supposed to provide you a non-slip, agreeable draw close so one can permit you maintain up while trimming your pet's nails. This could likewise help maintain any excruciating mischances.And it however mainly applicable to big dogs. But still it's rated for both expert groomers and pet guardians alike.
Its Highlights a twofold bladed guillotine style shaper with a stress spring that guarantees a brief easy cut. This makes nail cropping less like an errand and is extraordinary or proper hand utility With Inventive security forestall which particularly diminishes chance of harm.
Therefore the safari professional nail clipper is recommended for only medium and large dogs. It is recommended for any kind but only for dogs.
​Therefore the safari professional nail clipper is recommended for only medium and large dogs. It is recommended for any kind but only for dogs. It is a type of nail trimmer which is made using stainless steel. It has a sharp and long lasting edge.
3. Epica Pet Nail Clipper
The professional epica pet nail clipper Makes the reduction of your pet's nails much less disturbing and more at ease with the common execution of the epica pet nail clipper.
The epica pet nail clipper is made with excessive assessment stainless steel, such kind of scissors won't curve, scratch or rust, and the edges will remain sharp thru severa sessions on excessive pet nails. Actual slicing for health and comfort Sharp reducing edges will let you paintings swifter, with less exertion, and cut the nail well with out worn out edges that need to be recorded. On the off threat that your dog is stressed about the system, this could make both of your lives extra pleased. Except, you'll probable maintain his nails trimmed, allowing him to walk serenely and waiting for damage in your floors and furniture.
These scissors are mentioned particularly for medium length pets, for instance, collies, bulldogs, sheepdogs and spaniels, and good sized pooches, as an instance, german shepherds, top notch retrievers, rottweilers, dalmatians, terrific danes and irish setters.
Also the epica pets nail clipper handles are molded to fit your fingers and covered with in opposition to slip elastic so there is no compelling reason to hold them in a tiring, first rate-tight hold close.
​Basically get a manage on them commonly as you follow weight, without any stresses over slipping, sliding or accidentally harming your pet. The trimmer has a long lasting stainless steel edge which has a smooth nail finish.
4. Simply Pets Nail Clippers
​Simply ​pets nail clippers makes is easy for you to cut your pet's nails quickly and appropriately whenever.
This professional dogs nail cutters are mentioned by veterinary experts for sheltered and easy trimming of your dogs nails. The nail cutters has a pointy part. And it is made up of Stainless-steel. Amazingly, the scissors have to sense accurate and relaxed in your draw close top rate materials within the device bringing about a high first-rate applied slicing pastime whenever.
One interesting facts is that, they're made from the best satisfactory stainless-steel, so these clipper are strong and stay extremely sharp for pretty some time.
Simplepets pet nail clippers has a fortified splendid shaded elastic hold close is intended to permit secure slip free cutting with maximum severe solace. these these days composed canine nail trimmers permit sheltered and genuine pooch prepping with an incredibly reduced danger of harm, as they are sharp and feature an built in discretionary nail screen. Clipping your dogs nails might be quicker, greater secure and a drastically extra agreeable involvement with these vet mentioned canine nail cutters.
Note: it's With snappy sensor, protection lock and non slip rubber handles clean to apply for grooming and nail trimming - perfect for medium and huge puppies designed with the aid of two veterinarian doctors.
​It is a high-quality clipper with amazing features. They have sharp blades that have a high durability.Simply Pets Pet Nail ClippersIt is reported that the clipper was designed by veterinarians. It is efficient in clipping.
5. Andis Pet Nail Clipper
Andis pet nail clipper edges honed and warm handled for satisfactory and best cutting. The counter slip, easy maintain take care of for included and open to preparing.
Andis pet nail clippers has key advantages, there are Huge duty chrome steel cutting edges, Spring stacked interest joined with opposed to slip, easy hold manage for protected and open to making ready, Open finished shaper is best for every single size pet, Health forestall counteracts over-cutting your pet's nail, discharging snappy and staying away from a bad ordeal, and also well being lock on handle for secure stockpiling.
In the event which you are searching for some thing that abandons a easy nail with extraordinary hold, at that factor this andis object ought to be a few of the quality dog nail scissors for you.
They additionally cast off one of the best negative aspects of nail scissors: the hand first-class prerequisite. For the reason that they're spring stacked, slicing is far easier.
Besides, in case your pet is surprisingly dynamic and invests a ton of power outdoor walking on solid floors and so forth, at that factor the requirement for trimming its nails is less considering physical activities, for instance, the previously stated reason a moderate trimming of the nails every so often.
It is a traditional nail clipper which is highly efficient.
The clipper is suitable for all types of dogs, but one needs to be careful when clipping small breed dogs.
​ Andis 22360 agc Super-2-Speed Clipper
When using the Andis 22360 agc clipper, you should groom your pet when he is relaxed. Wear him out first to prevent him from being nervous. It is vital that you frequently reward him each time you wash and groom him so that he gets passionate about it. You should also check whether there is matting on his coat by using his favorite brush. Avoid scorching him by using a cool setting. Once you switch on the clipper, gently run its blade over your dog from his back towards his head. Always set a constant temperature.
How to Clip a Dog's Nails
The process of using the best dog nail clippers comprises of three main steps.
1.
Prepare to clip your dog
​ Chose the appropriate Clippers:
You can choose between a scissors-clipper and a guillotine-clipper. When using the scissor shaped clipper, the nail should be placed between its blades, and the handles squeezed simultaneously.The guillotine-clipper has a hole in which the dog's nail should be placed. One of its blades cuts the nails as it slides up and the handles are squeezed. It is not efficient in cutting thick nails especially those of large breed dogs.
Gather supplies:
You should have styptic powder. It helps in stopping bleeding in case the nails quick is accidentally cut. Treats should also be present as they will be given to the dog during clipping.
​ Choose the appropriate time:
Trimming should start when the dog is relaxed either after he eats or after exercising and playing. By then, he will be too tired to struggle.
​Calm the dog:
You should speak to him politely and in a soft tone. If it is his first time to get clipped, fondle his legs for a while so that he gets used to being handled. You should spend some time with him daily as you rub his feet. Once he gets used to you, you can begin touching his feet's nails with the clipper. Give the dog treats once in a while.
2. Clip the dog's nails
​Select a spot from where you will begin trimming:
You should first identify the nail's quick. It has a nerve and a blood vessel. The dog will experience sharp pain in case you accidentally cut the quick. If its nails are light colored, the quick can be easily seen as it appears like a pink tube running inside the nail's centre and ending at its tip.
However, the quick is not easily seen in black nails. A veterinarian or a certified dog trainer should be consulted.
You should clip the nail in small bits as cutting large pieces is painful, and it could lead to bleeding. This would make the dog unwilling to have his other nails trimmed.

​Gently grasp the dog's foot in your hand:
​You should be in front of the dog, and your hand should be in the same direction as its leg. While wrapping under hand under the dog's pads, stabilize the top of its toe using your thumb. This position is ideal when trimming the front legs. Avoid holding between the foot's pads as it could make the dog jerk involuntarily.
​Clip the dog's back feet by laying him down:
You can place him on top of a table to avoid restraining him. Your arms should be crossed over his body as you clip his back foot. However, you don't have to restrain a small breed dog. It is advisable to lean your body across a large dog when clipping him. If he tries standing up, firmly place one arm on his neck.

​Focus on the nail's shape:
​It bottom is usually straight, but it curves near the tip. Cut the tip in a straight line as you also avoid the quick. Be certain about where the blade will be trimming the nail as some clippers hide their blades. This makes one think that he is cutting less than he intended to.
Cut upwards and not sideways to prevent splitting the dog's nail. The cut should be perpendicular to the nail and not at extreme angles.

​Tip the nails:
​Cut a thin part of the nail of one toe at a time. Keep slicing it until an oval shape appears on the cut portion. This indicates that you are close to nail's quick and you should not trim it further.
Some dogs have declaws. These are nails which are located on the inside and top of the leg. They should be trimmed frequently as they don't easily get worn out as a dog walks.

​Reassure the dog if you accidentally cut his quick:
​In case you cut the quick, remain calm and be gentle to your dog.try to pacify and distract him by offering a treat. Maintain his position by draping your hands and standing over him. It will prevent him from running away. You can consult a veterinarian in case the dog is aggressive when you clip him.
​File the nails:
​Freshly trimmed nails have rough edges which could cause scratching. They should be smoothened using a dog nail file.
​Calm down the dog:
​ The dog may wriggle as you trim him. Use a treat to firmly assure him that his nails have to be cut. You may have to give him a short break after trimming several nails. In each session, aim at trimming more nails than the previous one, and you will eventually be able to trim all nails in one sitting.
​3. Prevent and handle injuries
​Be in control:
​You should treat any arising problems during trimming while being confident and calm. If you accidentally cut the quick, firmly hold the dog to reduce pain.
​Stop further bleeding:
​Hold the affected leg and apply styptic powder on the nail's tip until it stops bleeding. You may have to do it for several minutes while applying steady pressure.
​Reassure the dog:
​Distract him by offering treats. Prevent him from running for about 15 minutes by holding him firmly. It will reduce bleeding and prevent the nail from being further damaged. Comfort the dog to rebuild his trust in you.
​Grind your dog's nails:
​You can use an electric grinder in future instead of clipping nails. Caution should be taken for the grinder not to hurt the pads leading to irritations.pad injuries take longer to heal than nail injuries.
​Take the dog to a veterinarian:
​In case you are not confident in clipping your dog, take him to a vet. She can show you how a dog's nails should be trimmed.
How to Choose Dog Nail Clippers
When choosing the best dog nail clippers, you should consider your dog's size. Each clipper has its size guidelines in its packaging. They indicate whether it is suitable for large, medium or small dog breeds. In some, there is a hole on their packaging where one can insert the dog's nail and determine whether the trimmer is ideal.
​Heavy Duty Dog Nail Clippers
1. Scissor clippers

Their blades have notches which hold a dog's nail during clipping. The handles are squeezed when cutting nails.
Pros
-They are affordable since they cost less than $15.
– It is highly efficient when clipping small dogs.
-Portable due to their light weight.
Cons 
-They can't clip large breed dogs.
2. Pliers clippers

There are two blades notched together. They surround and cut a dog's nail. When using them, one squeezes the handles together.
Pros
-It is affordable as it costs $25.
-They are suitable for large dogs with thick nails.
-It enhances precise nail clipping.
Cons
-It is not suitable for small breed dogs.
3. Guillotine clippers

There is a ring where you insert the dog's nail. As you press the handles, the nail gets cut. It's cutting blade moves up and down.
Pros
-The blades are replaceable, and they can be replaced.
-It has a long durability.
-It gives a fine cut on a dog's nails.
-It is affordable. One can purchase it for as low as $20.
Cons
-If one is not keen, the nail's quick could be easily cut.
4. Nail grinder

Grinder has a rotating pad against which nails are placed one at a time. Instead of cutting nails like another clipper, it grinds them down. It doesn't have accidental snips which are associated with other clippers.
Pros
-It doesn't injure the nail's quick.
-No pain is experienced by the dog.
Cons
-It is expensive than other clippers.
The Final Verdict
Clipping dogs should be done after every three weeks to avoid dog scratching and nail splitting. You should research on the best dog nail clippers to use depending on the dog's breed, age and size. One can also visit a veterinarian for a further consultation.