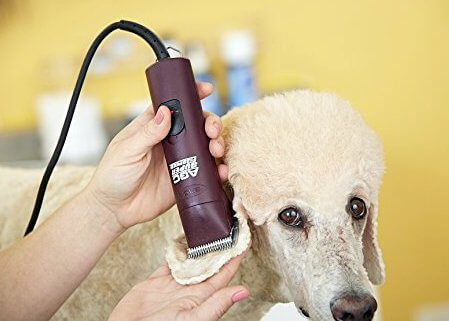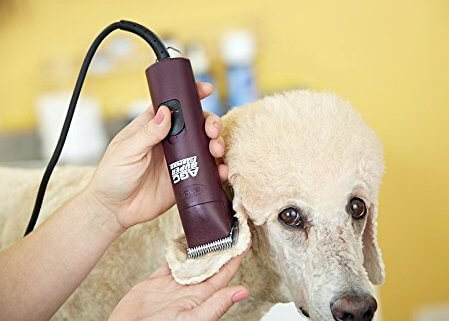 Are you a pet owner who recently bought a new dog? Has his hair overgrown and you are planning to trim him?
Have you trimmed any dog before? If you are inexperienced and you are in a dilemma about the type of clipper to use, Andis 22360 AGC clipper is what you need.
This article provides insight on the various Andis clipper models, their specifications, and instructions on how to use them.
| Product Features | Description |
| --- | --- |
| Model Type | AGC2 |
| Blade Type | Detachable |
| Weight | 17.5 oz |
| Motor | Super two-speed rotary motor |
How to Use Andis AGC Super 2-Speed Clipper
The following steps should be followed when using Andis clipper.
Groom the dog when he is calm: Ensure that the dog is worn out before grooming him. Engage him in a sport or a walk first. It is also important for you to make the dog love being groomed by rewarding him with small treats each time you brush, wash and trim him. Extra treats could be given when he remains calm for long. Try to caress him for a while so that he gets accustomed to the constant handling which is involved when trimming. Keep grooming sessions short and positive to prevent your dog from getting distracted.
Brush the dog's coat: Always check the skin for debris and matting before you start trimming it. Use a brush which the dog likes. If the dog is being clipped immediately after bathing, blow-dry his coat to dry it completely. Use a warm or cool setting to avoid burning him.
Clip your dog's body: After turning on the clipper, run their blades over the dog's body starting with the back. Constantly check its temperature to avoid hurting your pet. It is recommended that you move along with the hair's lay from the neck to his rear part. Keep the dog still by holding him gently with your free hand. Frequently remove trimmed hair strands to have a clear view of the dog's coat.
Clip the stomach and front legs: Trim the belly where it meets with the front legs. Guide them to where you intend to cut and lift each leg at a time with your free hand. Cut him backward from his neck and downwards from his legs.
Andis clipper's blades might not reach the lower part of his legs, and you should trim them with thinning shears.
Clip his rear and back legs: Trim the hind legs downwards as you take caution when cutting his bottom. For optimum results, cut his bottom with shears to avoid objects from getting stuck in his fur. Use the Andis clipper on his thighs and scissors on his tail, bottom and lower legs.
Andis AGC2 blades
Andis blades need to be well maintained at all times. Sharp cutting edges prevent the dog's skin from being torn or cut during grooming. They need to be frequently cleaned and sharpened.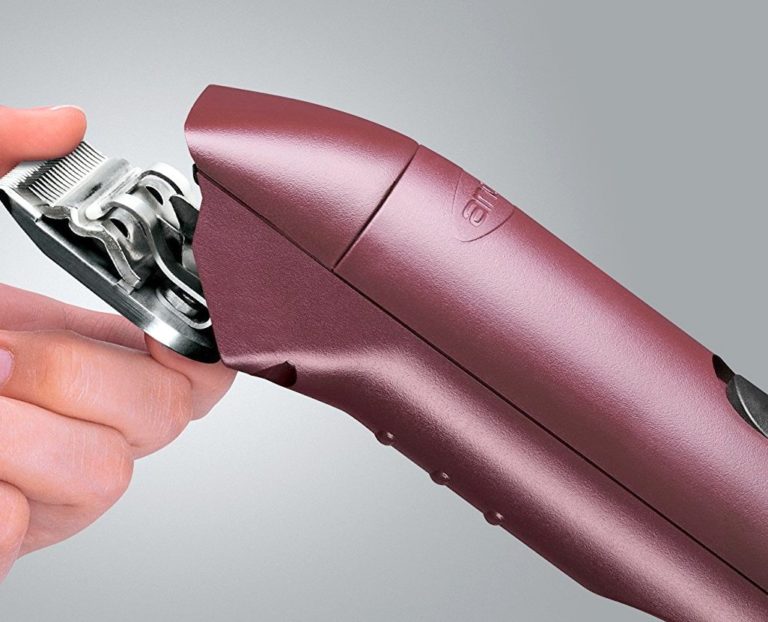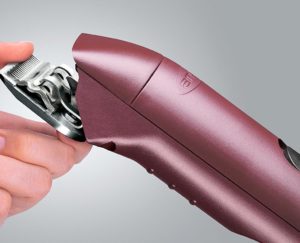 How to clean Andis blades
Detach them from the clipper: ensure that the Clipper's cord is unplugged or the switch is turned off. You can separate the edges by either pushing on the Clipper's tab or by removing the two screws which hold them onto the clipper. Remember how you detached the blades as it will enable you to attach them back again.
Brush the blades: You can remove hair from the blades either by using a toothbrush or the Clipper's brush. Remember also to clean the Clipper's head.
Clean the clipper's blades with a cleaning solution: Soak the detached blades in an Andis lubricant or wipe them with a moist cotton ball to remove debris and rust. Once you are through, wipe them with a soft cloth and allow them to dry.
How To Sharpen Andis Clipper Blades
Gather your sharpening tools: You will require a 4000 grit honing stone and an 8000 grit stone which you can buy from a store.
Moisten the rocks with water: Sprinkle water on the grit stones until they are completely soaked. It could take about ten minutes.
Tilt the blade at an acute angle: Avoid changing the blade's angle as you just want to hone its end. Take your time to get an appropriate angle of 35-45 degrees by holding it between your ring finger and the thumb.
Move the blade sideways: Regularly move the blade across the rougher grit stone severally and wipe the blade with a soft cloth. Alternate the sharpened side with the blunt one.
Assemble the clipper: After sharpening the blades, reattach them back to the clipper by either screwing or snapping them. Lubricate them by adding several drops of a light clippers oil. Turn on the clipper and run its blades to ensure that the oil is evenly distributed.
Andis AGC Super 2-Speed Clipper
It has a 14-inch heavy duty cord which enables animals to move freely. It has a two-speed motor that enhances its performance.
Pros
Cons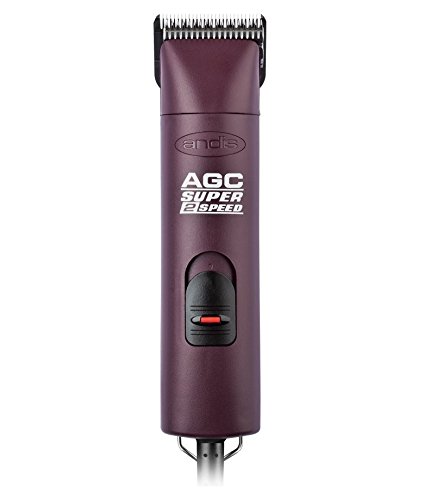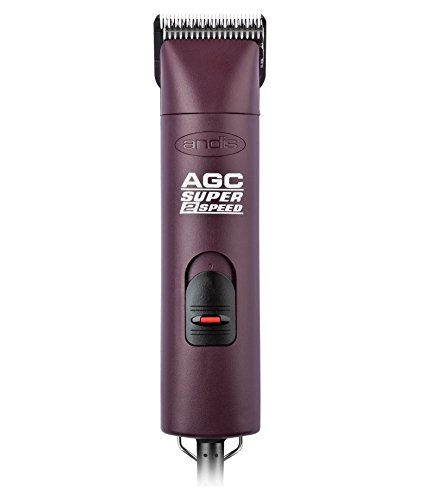 Andis AGC Super 2-Speed Manual
The following precautions are given in Andis clipper's manual.
​

Don't

use it when bathing.
Keep it on a steady platform to prevent it from falling.
Unplug the appliance from the power source after using it. You should also unplug the clipper before removing, assembling or cleaning its part.

Don't

leave the appliance unattended when it is plugged.
​

Don't

place the cord close to a fire.
Avoid using the clipper where aerosols or oxygen is being used.
Carefully supervise when the appliance is used by disabled people or near children.
Use the clipper for its recommended use only as indicated in its manual.
​

Don't

operate the appliance if its cord is broken or if it is faulty.
Alternatively, you can select a Wahl Bravura Lithium dog clipper. When using it for the first time, you should first consult a veterinarian to determine whether it suits your dog. Most dog clippers are not able to neatly cut thick dog coats. Breeds such as Collie, Akita and Labrador need a highly efficient clipper. The Wahl clipper costs $150 on average. You should regularly interchange and sharpen its blades to extend their durability. Select its No.10 blades as they efficiently trim long and thick coats. Avoid using a spaced blade as it can easily tear your pet's skin. When trimming around the eyes and feet, use blunt shears.
More Reviews you must love:
Best Dog Nail Grinders Reviews & Buying Guide
SportDOG Field Trainer SD-425 Training Collar Review
The Best Dog Nail Clippers & Reviews ~ Buyer's Guide
How To Give Your Dog A Haircut
Final Word
An Andis 22360 AGC Super 2-Speed clipper is an efficient tool to use when trimming your dog. It can be purchased from hardware stores at an affordable price. Caution should be taken when using it to avoid possible injuries.
Watch the video

you will Learn all the feature about Andis 22360 Clipper