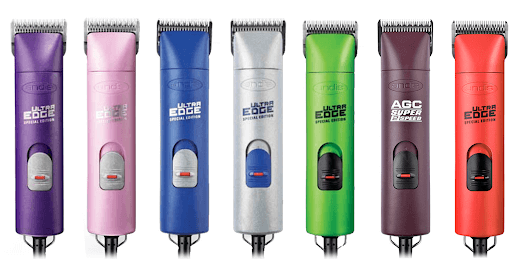 Andis Ultraedge AGC Super 2-Speed Pet Clipper Review
Andis Ultraedge AGC super 2 speed is a good option for professional cleaners and those who have many pets. The clipper works well with many pet breeds and coats. It is very easy to use and has advanced features as compared to the other machines. The speed is fantastic as you can clear your work on time. The detachable blades are also an added advantage of the device. The tool can be set to a quicker session for pets that react to noise and heat. This is because the machines produce much noise and heat. It works on two speeds. Furthermore, it does not need unnecessary oiling and greasing. Here we will discuss the device I detail.
Detachable blades are an added advantage to this product. It means you can use the product on various types of pets since pets have different skins. The removable blades that are easy to fix without the use of sophisticated tools. Do not stress out, it just takes little of your time and energy to set the blade. Furthermore, the blades do not require much expertise. They offer smooth cuts and are user-friendly. Since people have different needs, the product has different types of blades. It is up to you to choose a blade of your choice. Ensure you select the right blade for the right purpose.
Easy to assemble and maintain.
In most cases, the product comes when not fully assembled. Some of the parts have to be fixed by the owner. The good thing about this product is that the parts are straightforward to set. Additionally, most of the intricate pieces are already fixed. The remaining parts can be adjusted within little time by the use of minor tools. Also, it does not require mechanical knowledge. If you lack the process, use the user guide. It gives clear steps on how to use the product. However, be careful when handling parts such as the blades. Carelessness leads to unnecessary injuries.
When it comes to maintaining it, there is no need to stress since it does not need to be oiled and greased.
Professional pet groomers need a machine that works so fast as they have many tasks to handle. Luckily enough, the andis ultraedge agc super 2-speed pet clipper has a two-speed motor and high speed. It allows you to switch between 3400-4400 strokes in a minute. Due to its high speed, one can complete the grooming process within a short time. The speed allows you to deal with many pets efficiently hence saves on time. It offers excellent cuts as it has a potent motor. You can switch to any speed of your choice. For instance, when working on restless pets, you can change the speed to a more fast one; therefore, you will manage to deal with the pet in the right way. The speed eliminates pet hair thus prevents the machine from being clogged.
Products have different prices. Despite all the useful features this product has, it is very affordable. I mean, who dislikes accessible tools. However, some people consider it as expensive. It saves on your cost in that you do not have to visit a professional pet groomer. Since they are relatively affordable, go for one that can you can comfortably spend on and maintain without interfering with your expenses. I suggest you get the product and do the grooming by yourself. Why burden yourself with unplanned costs such as taking your pet to the veterinary for such services while you can do the job on your own at home? What better way to cut on cost than to get yourself one of these excellent clippers!
The product is hence natural to move.the cable has a length of about 14 inches. It is also easy to clean multiple dogs in succession. The wire makes it stand out, especially for professional groomers. Grooming can be done even when the battery is charging. It does not necessarily require you to stop the grooming from charging. Cordless clippers work fast since the battery does not slow down. Besides, if you don't like the cord, you can get rid of it. The machine will still work well.
Has a high speed hence works so fast
It has a powerful motor
It has a long cord and easy to move around
Durable therefore lasts long
It is ideal for dogs with tough and hard coats
Things That Could Improve:
The machine heats up too fast and takes longer to cool
It tends to be substantial for some users
requently asked questions
Q: What do pet owners like about it?
A: Most pet owners have positive views about this product. They are impressed with the ideal features the machine has. Humans prefer to use it on larger dogs with thicker coats, although the device works well on all dogs. Despite the product's size and shape, it is easy to use and handle. The device fits well in users' hands, although it tends to be more substantial compared to the other products. Another advantage is that the device has a cord of about 14 inches, thus easy to maneuver.
What type of pet hair does it favor?
A: It has been a common question among many clients. The answer is that this product favors all types of pet hairs. With the quiet clippers, cutting is easy. You can also switch the cutting heads to one of your choices.
From the reviews, it is clear that the machine has more advantages than disadvantages. The good thing is that the difficulties have possible solutions. For example, you can get a coolant spray to cool the heat. If you need a high-speed machine for your pets, then settle on the ultra-edge AGC super speed pet clipper. With its powerful motor, the products work amazingly fast.
Furthermore, the product is user-friendly. Just follow the user manual, and you are good to go. The reviews will help you settle on the best product.
What are you waiting for? Grab this great and robust product from a trusted buyer and try it out. Give your pets a good cut.