Keeping your pet hydrated is one of the responsibilities that come with owning a pet. Research has shown that having a source of clean running water will entice your pets to drink water.
Laika Aqua Pet Water Fountain offers plenty of benefits for both you and your cat. This automatic water fountain gives your pet access to fresh, clean water throughout. This allows you to attend to your business without any worries.
Here is a review on why getting the Laika Aqua Pet Water Fountain will provide your pet with many health benefits.
Product Features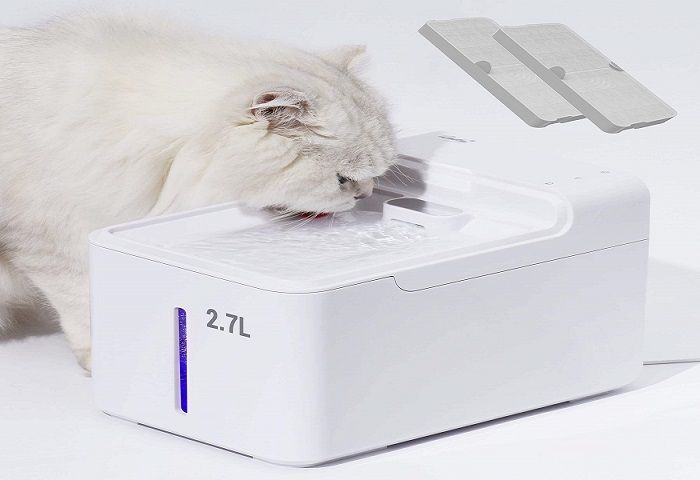 Easy to Clean
Cleaning the water tank is as simple as taking it out and rinsing it. With its patent design, it has a separate case and an integrated water pump. It, therefore, makes it easy to remove the water tank. You do not require any disassembling tools, and it has no dead corners.
You can soak the water tank entirely underwater to rinse it. For the body, you can dip it underwater but not wholly. You are required to keep the connector away from water. I would highly recommend changing the water and cleaning the fountain at least once a week.
Quietness
The Laika Aqua Pet Water Fountain is an ultra-quiet water fountain. With the slide that allows water to flow through, thus the minimal silence. It has noise levels below 29DB with its premium professional pump.
Cats are more sensitive to noise compared to humans. With this quiet feature, you do not have to worry about scaring your pet. You can have it in your bedroom or keep it on at night without any disturbance.
Large Capacity and Two Modes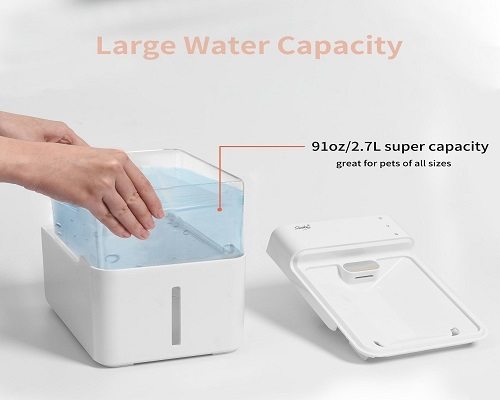 It has a capacity of 91 ounces or 2.7 liters. With this capacity, the pets can drink from the fountain without water running out too soon. It is considerably handy if you have a busy schedule.
This is a rather large capacity that works perfectly for all pet sizes. It also works great if you own several cats. It comes in two modes to cater to your pet's needs. There is the circulation mode, otherwise known as regular mode. It ensures there is no bacterial growth. It also helps keep the water clean.
Then there is the environmental protection mode (eco mode), which is more energy saving. To switch to the eco mode, you simply double-tap on the button.
Quadruple Filtration System and UV Germicidal Light
To keep out any dirt, the water pump has a mesh to quadruple purifying filter. This ensures that your pet only takes clean water free of any debris. It contributes to the health benefits that come with owning a Laika Aqua Pet Water Fountain.
It has a coconut shell-activated carbon filter that removes organic compounds and sediments. There is also the ion exchange resin that removes any excess magnesium and calcium. To top it off, it has a double later PP cotton.
The UV Germicidal light inside the water tank keeps the water thoroughly clean. It makes the water sanitary for consumption and improves its taste. It gives the water a 99.99% super sterilization rate.
Change the filter every two to three weeks. Always make sure that the replacement filters you get match the design of the water fountain. Give your pet the best by keeping them healthy.
Smart Indicator Light and Auto Power Off
It has three smart indicator lights; one for sterilization, filter replacement prompt, and water shortage warning. The filter replacements prompt light turns on to remind you of fountain filter changing. The sterilization light turns red once the water is automatically sterilizing.
Laika Aqua Pet Water Fountain is optimized to work automatically. Whenever the water in the tank is too low, the pump automatically stops working. This is when the water shortage smart indicator turns red.
Things We Like:
Saves you a lot of time and work

Provides your cat with water throughout the day

Automatically filters the water

LED fill indicator light

It keeps the water at the right temperature

Works quietly

Easy to assemble

It has an appealing design
Things That Could Improve:
Water easily spills as the water bowl is relatively shallow
Conclusion
As a pet owner, I would choose to have a happy cat over a fussy one any day. That is why I would go ahead and do my pet a favor by getting them the Laika Aqua Pet Water Fountain. It will keep the clean water running and your cat happy.
It comes at an affordable cost, and it will prove to be a lifesaver in the long run. It will be hard to resist getting your pet this automatic water fountain with its unique features listed above.
Watch Video To Learn More About Laika Aqua Pet Water Fountain Review