Do pets really need a water fountain instead of a drinking bowl? Turns out that house pets don't seem to have a strong urge to drink. The majority of the hydration that wild animals need comes from the prey they hunt. Indoor pets need to drink a lot of water since they are unable to properly hunt.
Most animals are less likely to drink surface water from a bowl because they prefer to drink moving water since it is more "natural" for them. Consider buying a cat water fountain to encourage them to drink more. It could also provide your pets with clean water so that the dirt and floaties of stagnant water are filtered out instead of a boring, old water dish.
Key Point Of Uahpet Wireless Cat Water Fountain Reviews
A pet water fountain is a watering tool that runs on electricity. Uahpet is an expert in pet feeding supplies that let you switch your pet's eating patterns from hasty and messy to slow and nutritious.[11] And use only durable, easy-to-clean materials that are safe for pets. Cleaning it should take no longer than five minutes. The wide water tray on this allows your pets to enjoy a peaceful water drinking session.
Water that has been in circulation tastes fresher than water that has been sitting in a dish all day and attracts your pet's attention. For your convenience, we've listed the advantages and disadvantages of the Uahpet wireless and automatic cat water fountain below.

You can get 15% OFF if you would like to purchase the product. The discount Code is: UAH15
Pros
Not only does a Uahpet pet water fountain's self-circulation keep the water clean, but it also has a filter. Eco-friendly Shell, Ion Exchange Resin, Quartz Sand, Coconut Activated Charcoal, and Cotton are the materials used in its design. Pets receive clean water from a 6x superior filtration system. The filters are long-lasting and replaceable.
With 120 days of battery life and a rechargeable battery, there is no requirement for a wall plug or cables for your pet to nibble on or trip and fall. It can be put somewhere that your pets feel comfortable drinking from. Moreover, the storage tank has a capacity of two liters which is plenty to fulfill the thirst of multiple pets. And the detachable design makes thorough cleaning much easier.
The device's ultra-quiet management operates below 30 decibels making sure you can sleep peacefully while your pet consumes water. It was constructed such that creates no noise at all.
Both a timer mode and a motion-activated option are available on the Uahpet fountain, with two modes available, your pet receives chilled, fresh water from the automated machine every 15 minutes, plus it detects and starts flowing when your pet approaches a 120-degree area at a distance of 2 meters.
Electrical damage is guaranteed to be completely impossible because it is completely electricity-leakage-proof to help safeguard your furry companions.
Dog noses and cat whiskers are sensitive. Your pet may experience nose and whisker irritation as well as difficulty adequately hydrating themselves if their water bowl is too deep. To make drinking from your pet's bowl more pleasant, Uahpet has a large water tray.
Cons
It's important to know that this type of dish will cost much more than a conventional pet water bowl if you're on a limited budget. Additionally, you will often need to buy a new filter for it. The large volume of this makes it hard to move around.
While these thermal plastic fountains are durable and easy to handle, they are not environment-friendly. Many plastics are easily susceptible to the development of bacteria and odor. BPA, a carcinogen, is present in plastic fountains. But Uahpet Wireless Cat Fountain is free of lead and BPA and it is compliant with all FDA and RoHS requirements. It is made of inert, pigment-free, baby-grade food materials that will not stain or discolor. It is built to be wear-resistant, easy to clean and to withstand reasonable drops. Its antibacterial properties make it non-toxic, and odor-free and can help prevent black chin and other infections, contributing to your cat's overall health. On the other hand, ceramic fountains are prone to breakage.
Why this product is the best?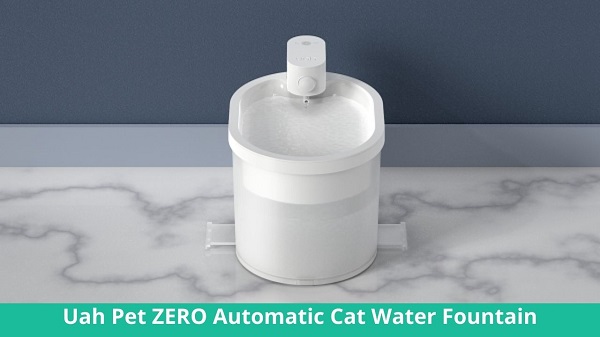 Uahpet wireless and automatic cat water fountain costs lesser than other heavier fountains with lesser capacity. One of the most trusted brands by pet parents with nearly ninety percent positive reviews shows that it has been largely helpful to the consumers. Does not require wires for electricity, avoiding usual accidents with playful animals. All these positive factors make it one of the highly purchased and best choices for your pets.
How to use it?
Firstly, give it a wash and fill it up with clean water. Charge the battery, turn it on and make sure the water is filtered. Find a location for the fountain next that is close to where your pet spends the majority of its time and place it there. Avoid setting it either too high or too low.
FAQs
Is there any leakage?
Answer: It is completely leakage-proof with separate compartments for electricity and water.
Does it create noise?
Answer: It is unlikely to get to hear it run. You might wonder if it is running at all, making it sleep-friendly and suitable for timid pets.
How often should I replace the filter? How often should I change the water?
Answer: We recommend replacing the filter and filter sponge every 3-4 weeks depending on use. Replacement filters are available on our website in convenient packs of six.
For optimal usage, we recommend replacing the water every 4-7 days, though the fountain is designed to be safely used for up to 10 days at a time.
How should I clean my cat's water fountain? And how often should I clean it?
Answer: The steps are simple:
Step 1: Turn the power off.
Step 2: Pull off the water pump, and remove the drinking water tray and filter compartment from the bucket.
Step 3: Scrub all except the filter itself with soapy water and then rinse well with clean water. Gently remove any solid debris (hair, dust) from the surface of the filter.
Step 4: Reassemble. We recommend you clean your water fountain once every 4~7 days, perhaps at the same time as you change the water.
Conclusion
Constantly having to look after your pet's water intake can be tiresome while you are busy working, having to go out, or simply resting after an eventful day. But being well hydrated is also very essential for your furry friend's health. Especially for cats who often end up suffering from kidney problems or urinary tract infections leading you to spill more on vet bills. Investing in a pet water fountain could end all of these burdening concerns for you. Hence, an automatic pet fountain provides the best opportunity for drinking.