How do you prevent your cats from scratching your furniture and other valuable items at home? Scratching is a natural instinct for cats. If you don't want them to destroy your items, it is good to provide them with a convenient scratching post to sharpen their claws safely.
The Toozey Multi-Level Cat Condo or tree is an all-in-one item for your furry friend. Not only does it give your cats a convenient place to scratch but also nice places to explore, relax or take a nap. This condo with scathing posts gives your cat mental and physical stimulation leading to a healthy and happy cat.
If you would like to buy this multi-level condo, we have a full review to help you understand its features and benefits. Read on to find if it is worth buying for your feline friends.
Product Features
There are plenty of features that make this cat tree stand out. Read on to find the amazing features of this cat condo with scratching posts.
Great Playground for Cats
Cats are naturally playful animals. You can make their plays great by investing in this cat condo. It has plenty of places where your cats can jump and climb. The cat tree is made for kittens, small and medium-sized cats.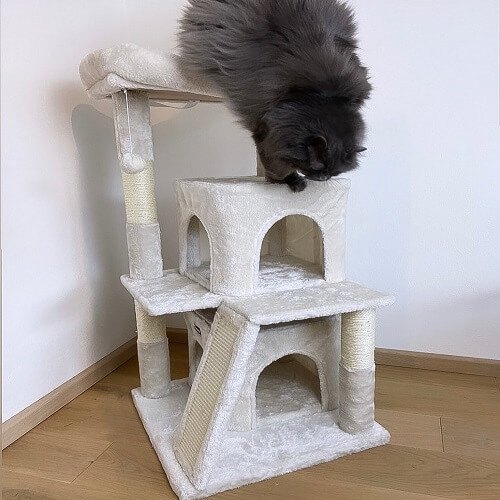 It provides your indoor cats with more fun where they can explore, scratch, or take a nap. This is essential in satisfying their natural instincts. You can place the condo near a window and let your cat have fun.
Durable Design
If you need a cat tree for small apartment, this one is a perfect match. It features a compact yet durable design. The cat condo has a multi-tiered design that is entertaining for cats. They get a convenient place where they can lounge and play safely.
The top perch of the condo has raised edge that provides the right spot for watching outside or resting. Cats can hide in the included two cat condos for hide and seek.
Sturdy and Safe
While you want to entertain your cats, safety should be a priority. This can tree features a sturdy and safe design. Therefore, it doesn't pose any harm to your cats. It is of the right height and provides stable multi-functioning for indoor cats.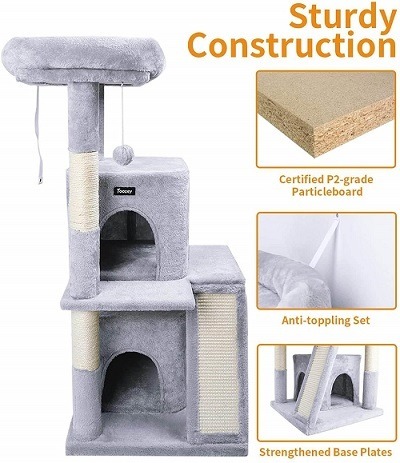 The unit is made of high-density and non-toxic particle board and great supporting tubes for the overall safety of your cats. It is stable enough to allow them to jump and climb the towers safely. Additionally, it includes a safety trap to ensure damages do not take place for aggressive cats.
Cat Furniture and Décor Item
Not only does it act as a nice place for cats to relax and scratch but also a decoration in your house. The cat condo has an appealing design and a neutral color that blends easily with many home decors. It acts as modern decoration. You can also choose other neutral colors like brown and beige depending on your liking.
Easy Assembly
A good cat tree should provide easy assembly in less time. This one provides a worry-free setup that makes your work easier. You can assemble all the parts of the unit easily without the need for professional help. Additionally, it comes with a step-by-step guide and the needed tools for assembly.
Holds Multiple Cats
If you have multiple cats in your apartment, this cat condo is a great investment. It is designed to hold more cats and provides them with enough space for scratching their claws at once.
The condo is suitable for large cats and small cats. It offers them a private and quiet place where they can sleep, rest or play hide and seek.
Soft and Cozy
This cat tree provides indoor cats with a cozy place to relax. It is made with an ultra-soft plush to keep your feline friends comfortable and warm. Kitties can enjoy a healthy stay in this multi-level tower.
Quality Supporting Tube
This cat tree features a premium quality supporting tube for durable and stable use. The supporting tubes are made of perfectly compressed and glued cardboard. These tubes hold the cat tree firmly so there are no chances of wobbling.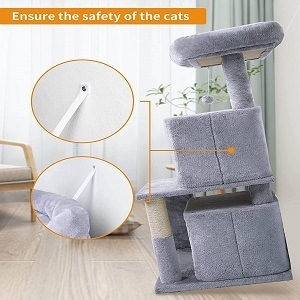 The baseboard is also sturdy to support even the most energetic cat. The baseboard features CARB particleboard reinforcement to create a stable playhouse for your cats.
Scratching Post
When you buy this item, you get two products in one. You will have a cat condo and a scratching post in one. It features three sisal ropes coiled on the scratching posts at varying heights.
This promotes positive scratching behavior for your cats. You will not have trouble with cats scratching your beautiful sofas or furniture.
It also features a replaceable hanging ball to suit playful kittens. You can also choose to replace the hanging ball with a toy of your choice. The scratching posts are made of natural sisal rope that is strong enough to withstand frequent scratching.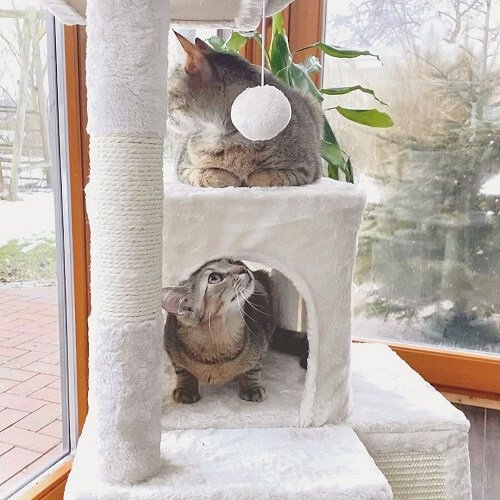 Pros
Great for small apartments

Suitable for multiple cats

Good pricing for the size

Stable and durable construction

Comfortable for your cats

Made of natural sisal rope

Promote healthy scratching behavior
Cons
Instructions are not pretty good

The material would have been quality

List Element
Frequently Asked Questions
Question: What is the weight capacity of every surface?
Answer: Every surface of this cat tree is strong enough to hold two cats at once.
Question: Does the condo require installation?
Answer: The unit doesn't come in one piece so you need to do the installation. The instructions and the required tools for installation are provided.
Conclusion
Encourage healthy scratching behavior for your feline friends with the Toozey Multi-Level Cat Condo with Scratching Posts. This unit is designed to keep your cats comfortable, playful, and sharpen their claws.
From the above reviews, there are plenty of things to love about this cat condo. I hope you will consider it for your cats and let them enjoy fun scratching, exploring, lounging, napping, climbing, and jumping.