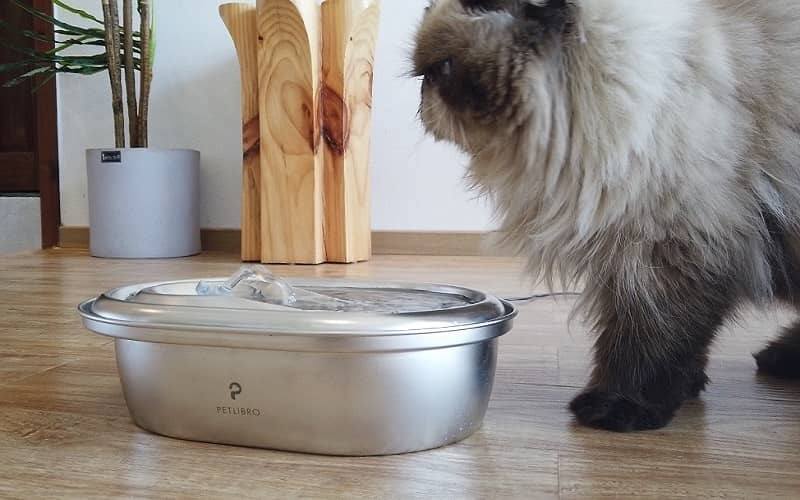 Petlibro Automatic Pet Water Fountain Review – Is It Good
Pets require the right amount of water to transfer essential nutrients in and out of their body cells. Water also helps in the digestion and absorption of nutrients. So, if you are a pet owner, you need to buy a pet water fountain to meet their hydration needs.
The Petlibro Automatic Pet Water Fountain is suitable for dogs, cats, and medium-sized pets. This stainless steel water fountain attracts your pets and makes them drink more water. I will give you a full review of this pet water fountain to help you decide if it is worth it.
This is one of the healthiest pet water fountains you can buy for your pets. It features a premium quality material for durable use. The stainless steel construction is easy to clean and doesn't rust. Additionally, it also gives a nice shiny appearance.
Using this water fountain is easy because of its convenient handle. You can easily take off the lid when you want to add more water.
The automatic water fountain has a detachable and anti-dry water pump. You will also find a pump holder that holds the pump well in the position. You can adjust the water flow and select the right flow that suits your pets.
Giving your cat/dog water is crucial but you should also consider the type of water you give. Many of the automatic water fountains you will find don't have a filter to purify the water.
This one features a pre-filter sponge that holds dirt and hair. It also has an activated carbon filter that eliminates odor, hair, and dirt in the water. Therefore, your pet will enjoy clean and fresh water free from impurities.
Nothing frustrates like a leaking water fountain. You will not experience such problems with this one because it is leak-proof and splash-proof. It features a wiring hole that is raised by the outlet pipe and the pump holder.
This water fountain has a large 2-liter capacity to hold enough water for your pets. Therefore, your pets stay hydrated throughout.
Keeping the feeding items of your pets clean is crucial for their health. Washing this machine is super easy because it is dishwasher safe. You can put it in the dishwasher except for the filters and the pump which are not dishwasher safe.
This is a quality machine that doesn't disturb your pet or you with noise during operation. It provides a silent operation making it convenient to use. Unlike other automatic pet water fountains, this one has a noise level of less than 30 dB and you will hardly hear it.
The package comes with all the essential items that you need. You will get the pet water fountain, an AC adapter, filters, cleaning brush, and an instruction manual. Setting up the unit is pretty simple because you only need to install the filter and the AC adapter and it is ready to use.
Features an effective double filtration system
Easy cleaning because it is dishwasher safe
It provides a quiet operation
Durable 304 stainless steel body
Features a large capacity of 2 liters
It is splash-proof and doesn't leak
Designed with an ergonomic handle makes it remove the lid
It is hard to get replacement filters
Why You Need A Stainless Steel Fountain?
The material of the water fountain you choose for your cat matters. With the many different types of metals used to make these fountains, metal allergies are common. It can take time for you to figure out metal rection but they can be serious for cats.
It is great if you use a water fountain made of stainless steel to protect your cats from allergies. This will give them the safest fountain to meet their hydration needs without allergies.
Frequently Asked Questions
Can I adjust the water flow of this pet water fountain?
Yes. This is a convenient fountain that enables you to adjust the water flow to suit your pet's requirements. It has a water valve on the lid that helps you adjust.
Is the machine dishwasher safe?
Cleaning this machine is easy because you can put it in the dishwasher. However, the filter and the motor are not dishwasher safe.
How frequently do I need to clean the pump?
You should clean the pump any time you are cleaning the fountain. The number of times you should clean is based on the quality of water and the number of pets using the fountain. Ideally, cleaning it once we will be great.
How will I know the water level is low?
When the water level is low, the machine will be noisy to alert you it's time to add the water. It is great if you always add the water at the right time.
If you need a convenient fountain to provide your pets with fresh water, get the Petlibro Automatic Pet Water Fountain. This is an amazing machine that features a sleek design, easy to use and assemble and your cats and other pets will like it.
The fountain has incredible features which make it easy to use. Cleaning is also easy because the fountain is dishwasher-safe. Get it and meet your pet's hydration requirements.
Watch Video To Learn How do drinking water fountains work?
Note: If you would like to buy the products at 15% discount, just use code: Xshaunt while buying from their official Website.