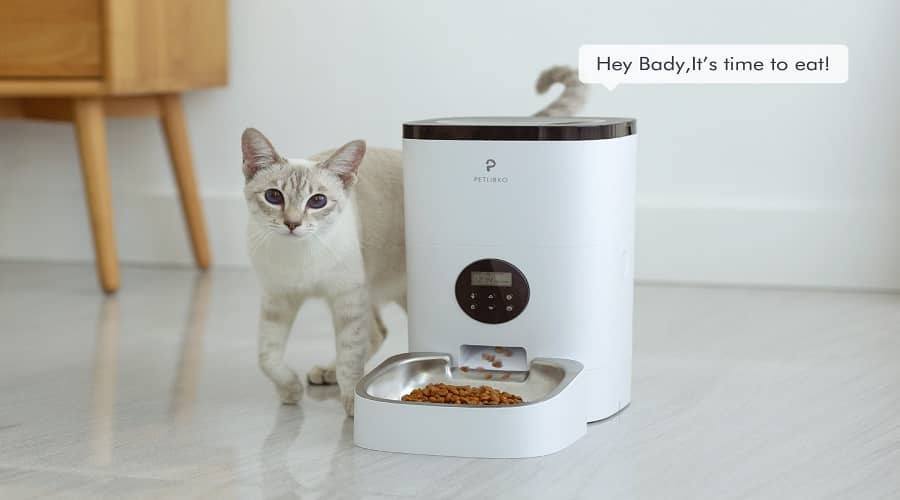 Petlibro Automatic Pet Feeder Review
A pet is more of a person. Therefore, you need to take good care of your pet. In most instances, you will find out that pets require care, attention, and love. To ensure that you achieve this, you need a pet feeder that can serve such purposes.
With the Petlibro automatic pet feeder, your pet can live a convenient lifestyle. The feeder provides customized mealtime schedules and portions which deliver a better life to your pet. This guide will give you information on why Petlibro automatic pet feeder is a great deal. Let us check out the below information;
Note: If you would like to buy the products at 15% discount, just use code: Xshaunt while buying from their official Website.
Here are some of the features that make the product worthy.
Flexible Feeding Time
When using this pet feeder provides you with a convenient feeding schedule for your pet. You don't have to set the alarm late in the night or early mornings to feed the pet because the feeder will do all that.
You have to set up a timer on the feeder, and it will automatically dispense food as per the time you set it. It serves 1-4 meals a day with a portion of 9 per meal. The diet is customized and healthy best for your pet.
Petlibro automatic pet feeder comes with a human design. This means that it requires you to use both your hands and press on the sides for it to open. The design is simple and easy to use. You can easily clean, open it and clean the device.
Also, it is convenient has it saves time and energy. It allows for easy refilling of the feeder with food. The human design prevents the pets from knocking down the feeder, which can cause excessive feeding. The design also provides an effective way of feeding your pet.
It has a suitable capacity that can hold a significant amount of food for the pet. The feeder can carry up to 4 liters or 16.9 cups of pet food. With such a holding, the feeder is big enough to hold and provide a consistent supply of food to your pet for a whole day.
The feeder will keep you happy and confident that your pet is doing fine. It also has an inbuilt desiccant box which keeps the food fresh all the whole day. The pet stays fresh as it feeds on healthy and fresh food. It is important to consider changing the desiccant box once after a half month to enhance the feeder's freshness.
Easy Monitoring And Control
The device comes with accessories that make it easy for you to control the pet's feeding schedules. With the help of a voice recorder, you can easily stay in touch with your pet. You need to call the feeder the use of a 10s recording clip.
It improves the bond between you and your pet and ensures that the feeder regularly serves its food. It also comes with LCD screens that you can easily set feeding times. The process works like a manual function which gives the pet the best rewards. Moreover, the pet stays happy and healthy.
If you are an enthusiast of lightweight feeders, then Petlibro suits your needs. Lightweight feeders are best for travelers as they are easy to move around. The device easily folds, which ensures that it takes up less space in storage. Additionally, it comes with a rechargeable battery.
The batteries are alkaline thus work well in places that have no power. If you plan on traveling with your pet, then ensure that you consider Petlibro automatic pet feeder. If the power goes off, you can consider the battery option to ensure that the pet has a consistent food supply.
The great kibble option helps you save on time. It allows you to choose from the multiple kibbles and be able to understand what your cat needs. You will save because you don't have to go outside to fetch food for your cat. All you have to do is ensure that you set the time, place the kibble in the hopper and count the number of food drops.
It comes with parts that are easy to remove and clean. The tank and tray are easy to clean, thus making maintenance easy.
It offers convenient dispensing of food
The feeder is easy to use and control
The feeder is suitable for small cats and small to medium dogs
It is light in weight thus extremely portable
The device delivers a constant and convenient supply of food
It only works with dry food
Frequently Asked Question
Q: Is Petlibro automatic feeder a suitable feeder?
Answer: Petlibro is an automatic feeder that comes with various advantages. An automatic feeder quickly dispenses food without manual operation. That means that you can feed your pet even when you are far from it. Petlibro is no exception when it comes to such operations.
Q: How do I set time on this automatic feeder?
Answer: Setting time on this feeder is pretty straightforward. First, you press the clock on the feeder, then press set until the device's hours flash. Then choose the increase or decrease to set the hours on the device. Then press on the set option until the hours flash again.
On the increase or decrease option, press set to set minutes. Press on the clock to complete the setup of the feeder.
Q: How much does a Petlibro feeder cost?
Answer: The feeder is quite affordable. It serves excellent quality thus worth the amount it costs. You can do some research and find the best Petlibro feeder that is budget-friendly.
Well, with the above information, I hope that you finally understand Petlibro automatic feeder. At times, it gets hectic when you worry about leaving your pet alone at home. With this feeder, you can be sure that everything is catered for. It keeps your pet happy and gives care and attention to the pet.
If you are a pet owner, then you need to try this feeder. It is suitable for small and medium cats and dogs. Moreover, it helps keep the pet feeling loved as it can play your voice. I hope that this guide has been helpful.