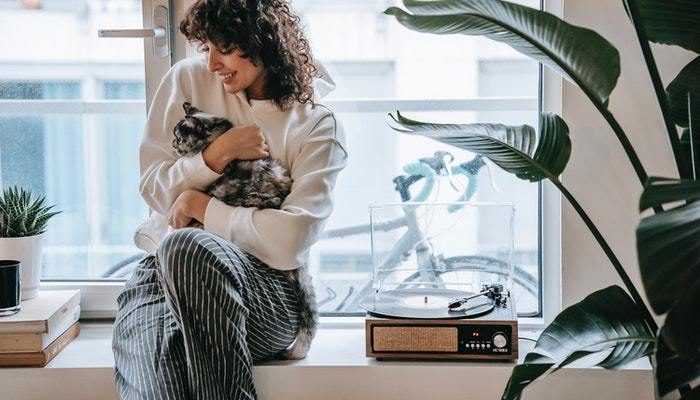 Aging With Grace : Essential Tips To Help You Keep Your Older Cat Happy
A truth reluctantly acknowledged by all cat parents is that our kittens won't remain kittens forever (except in our hearts). If we're lucky enough to have them by our side for a long time, they will eventually reach the senior stage of their life (from 10 years old onwards, according to AAHA guidelines and will need some extra care, to enjoy the best quality of life for as long as possible.
Here are some ways we can keep our cats happy and comfortable as they grow older:
Obviously, this is sound advice at any stage of your cat's life, but it is even more critical that we pay close attention to any changes in an older cat's behavior. Even minute changes in their routine might signal some discomfort or an incipient problem, which should be addressed sooner rather than later. Things to be wary of include changes in appetite, erratic litter box usage, atypical vocalization, or shifts in their interaction with humans or other feline residents.
2. Schedule Regular Vet Check-Ups
As they advance in years, cats, just like humans, will become more vulnerable to some conditions. This is not to say every senior cat is bound to develop major health problems, but prevention is always better than cure. No matter how closely we watch our feline charges, we may miss some early signs of more serious conditions, which is why regular vet check-ups and blood work are of the essence. Most specialists recommend that cats over 10 years old should be taken in for a routine check-up and blood test every six months.
3. Ensure The Diet Best Suited To Their Needs
Even if your older kitty doesn't have any special conditions, be proactive and ask your vet if any adjustments should be made to their diet. Weight problems can also become more common in senior cats.
Closely monitor your cat's weight, especially if they are prone to obesity, which puts them at greater risk for diabetes, heart disease, and arthritis. Conversely, if your cat keeps losing weight and any underlying health issues have been eliminated, check with your vet if any supplements or alternative diets might help.
4. Provide a Stress-Free Environment
Beyond the obvious psychological discomfort, stress can lead to a host of health problems in older cats or exacerbate chronic conditions, so minimize stress factors in your cat's immediate environment.
Make sure your senior cat has plenty of hideouts and provide a separate room where they can get some peace and quiet, away from the bustle or from other kitties in the household. Try to shelter them from loud noises and, if your cat's eyesight is beginning to decline, do not sneak up on them, as they are easily startled.
Some cats will remain playful and energetic well into their old age, while others may become more frail and sedentary with age, just like humans. Even if their Cat Olympics days are behind them, any degree of activity is beneficial for their joints and general wellbeing, so try to engage them in less intensive play and workout sessions on a regular basis.
Older cats might have trouble keeping up with their grooming routine. Inadequate grooming is both a source of discomfort and a potential breeding ground for bacteria, so make sure you prevent this by brushing your cat at least once a week and by cleaning sensitive areas with special pet wipes.
If your vet recommends bathing your cat, follow their directions closely and do not repeat the experience more often than it is strictly necessary, as this tends to be a source of stress for most kitties.
As they grow old, some cats become less aware of their surroundings, more apathetic or less sociable. They might not always make it to the litter box in time or might need a lot of coaxing to eat. They might react aggressively when other cats in the household do not respect their boundaries.
Try to provide solutions to the respective problem (placing more litter boxes around the house, providing a more varied assortment of food, keeping your senior cat separate from their younger siblings, etc.), but be patient if you don't always get the outcome you were hoping for. At the end of the day, the goal is to ensure that your cat spends their golden years in peace and comfort.
8. Be There For Them Up To The End
Despite our best efforts, more often than not, a day will come when we have to say goodbye (or, rather, 'Until we meet again') to our older kitty. If you're faced with the choice dreaded by all cat parents, when your cat's health deteriorates dramatically and their quality of life is significantly altered, do not let anyone else make the decision for you.
However, if you do decide to let them go, be there for them at the end. Your presence will be a source of great comfort to your cat and, once the pain recedes, you too will find some comfort in thinking you were there for them.
9. Honor Their Memory Through Cat Urns or Keepsakes
Sometimes, as we mourn for a loved one, the pain of loss might overshadow the joyful times we shared. Memorials are a way to honor the memory and life of those we lost. Whether you can host a memorial for your cat or not, choosing a custom cat urn can help you honor their memory and find some closure. For instance, check out this wide range of affordable pet urns for cats- they make beautiful keepsakes, which will bring you some solace when you miss your cat the most.
Last, but not least, the best way to honor your cat's memory is to keep your heart open to other kitties in need of love. Some people need to get a new pet as soon as possible; others can't bear to experience the grief and never adopt again.
No timeline exists on new cat adoptions, each and every loss is unique so you will adopt a new one only when you feel the time is right.