There are different types of dog foods with all kinds of ingredients. Going through the dog food labels can be tough to tell whether a specific food is healthy for your dog.
Not all the dog foods you will find are premium quality. Sometimes, the labels can mislead you, and you might not get the best dry dog food.
When picking dry dog food, it is crucial to ensure that it is evaluated by the Association of American Feed Control Officials. We recommend the BIXBI Liberty Dry Dog Food because it provides the needed everyday nutrition for your best friend.
The food is affordable, convenient, and contains quality ingredients. Read this full review to determine if this dry food is right for your dog.
Features
There are so many dog food brands with reported cases of dilated cardiomyopathy in dogs. You need to consider the healthiest food for your dog because they are also allergic to certain food. Here are some outstanding qualities of this dog food.
Fresh Beef
This dog food contains fresh beef and then other whole ingredients. Unlike other dry dog foods, it doesn't contain some cheap fillers like beef meal or chicken meal.
It contains fresh meat that your dog will love. The food doesn't contain wheat, rice, grain, and soy. It contains the right protein levels and a good source of healthy fats.
Quality Food
The dog food has the right nutrition and quality ingredients healthy for your dog. It is convenient, affordable, and easily digestible. The meat is cooked at a lower temperature, and it doesn't contain ingredients like meat meal.
All the ingredients are quality and offer well-balanced fiber and enhance absorption of amino acids. Additionally, your dog will get the right quantity and quality of proteins from fresh meat.
Are You Seeking 25% off Discount Code – Click Here
petshaunt
USA Made
You can be certain that your dog is getting the healthiest food with quality ingredients. All the food, supplements, and treats from BIXBI are USA-made and contain international ingredients.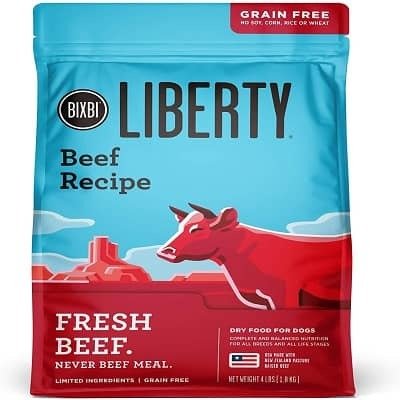 Pros
Fresh meat has great digestibility
Well-balanced food with the right nutrition
The food contains the sufficient protein levels
It doesn't contain fillers and other by-products
Great food to change your dog's diet
Cons
Great food, but the packaging should have been resealable
Some dogs don't like the food
Frequently Asked Questions
Are there other recipes available apart from beef?
Yes, you can find the dog food in other recipes, including chicken, original puppy, game bird feast, lamb, fisherman's catch, and much more.
Why is BIXBI better than other dog food brands?
The best thing about this brand is the dedication to using natural ingredients in the foods. They source the ingredients carefully for all their foods to develop the right nutrition with very little processing. All their foods have also been tested for safety and health.
Where are BIXBI foods made?
BIXBI makes the food from fresh farm ingredients, and the product is made in the USA. They test all their products to ensure they meet the US Department of Agriculture and the FDA regulations.
What type of products does BIXBI sell?
They sell different types of dog food to meet the essential nutritional needs of various dogs. All the foods are made from fresh and local ingredients that meet the required food safety standards. So, you can get the right food to suit your dog's health.
Final Words
Giving your dog the right type of food will improve their health. While there are many dog food brands available, not all of them produce quality and healthy foods.
Some provide false marketing, so the information on the labels should not deceive you. BIXBI is a quality USA company dedicated to providing your dog with the best nutrition.
Their food, supplements, and treats contain healthy and local ingredients that you can't find in other foods. The Liberty dry dog food in beef flavor is suitable for dogs of all ages, and it is easy to digest.
The food doesn't contain corn, wheat, or soy, and it is steam cooked gently for easy digestibility. You can try the food and see if your dog will love it.
BIXBI Dry Food is the perfect combination of nutrition, quality ingredients, affordability and convenience. Shop Now