I used to refill the water bowl twice a day for my cat. Even though Daisy occasionally used it, she favored sitting on the edge of the toilet bowl and stooping down to consume what she thought was fresher water.
Ah, I see now. Fresh water is essential. However, I do not even want to use a toilet seat that has paw prints on it.
I finally purchased a water fountain for pets. Aside from the tediousness of its monthly cleanup, the fountain was a success because the cat liked it.
The fountain was recently replaced with a brand-new unit that promised to deliver even tastier water while requiring significantly less maintenance because nothing lasts forever.
Most Important Things You Need To Know of Wopet W300 Silent Pet Waterfall Drinking Fountain
2L Capacity and Visible Water Level: The WOPET W300 cat water tank has a sizable drinking area and can accommodate multiple pets. The transparent window makes it simple to keep an eye on your pet's overall water usage.
Triple Filtration: Triple filtration is part of the multiple filtration system in the Wopet W300 pet water fountain. Pet fur and other large contaminants are captured by the sponge. Tap water is softened by the ion-exchange resin layer, and unpleasant flavors and odors are eliminated by the activated carbon. It will be healthier to modify the filter every week!
BPA Free and Premium Materials: W300 cat water fountain is BPA-FREE, durable, easy to use, and clean. It will make your pet become obsessed with drinking water and stop worrying about their health issues with the help of this premium-built product.
Silent Pump: The pump is extremely quiet and keeps its volume below 35 decibels. The average lifespan of a low-voltage pump is two years. The pump can be taken apart and changed.
Easy to Install and Maintain: The WOPET W300 cat water fountain is simple to put together and take apart for maintenance and replacement. Be aware that the pet fountain does not include a wall plug. It is advised to operate it with a 5V, 1A adapter or power bank.
Safety Materials: WOPET W300 cat water fountain is constructed of high-quality ABS, an eco-friendly material that is BPA-free, durable, and simple to assemble and clean. It is safe for both puppies and cats.
Important Features Of A W300 Plastic Fountain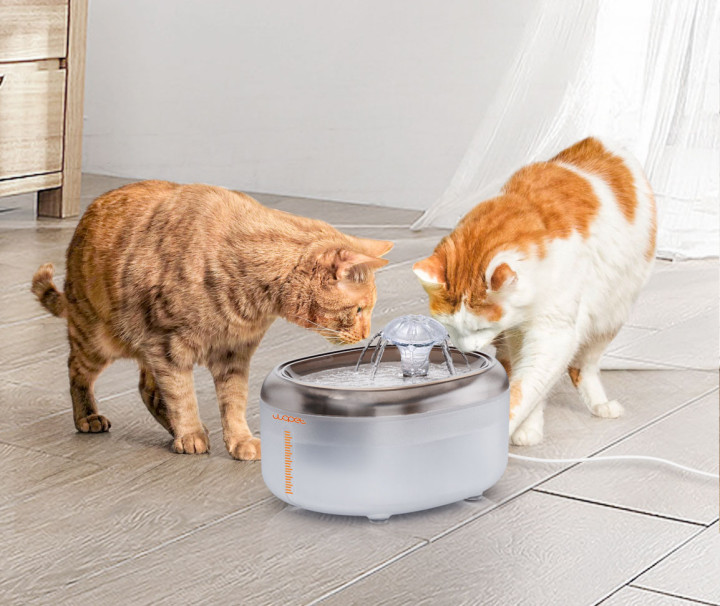 Reserve Water for Emergencies: A power outage won't stop the water tray from supplying water to your pets because it has a capacity for storage of about 80ml.
Visible Water Level: Due to the visible water level, it is possible to make sure that pets are getting enough water to drink, and you can always check the water level and be aware of the bucket's capacity.
Two Drinking Options: Give your pets the option of a gentle fountain or a flower waterfall.
W300 Plastic Fountain Setup Guide
In a clean bowl, soak the filter for five minutes.
Give the filter a 30-second rinse.
Place the pump in the designated area.
Plug the electrical cord into the slot.
Install the pipe, then fill the tank with water.
Set up the filter, water tray, and spout.
Maintenance: Easy Ways to do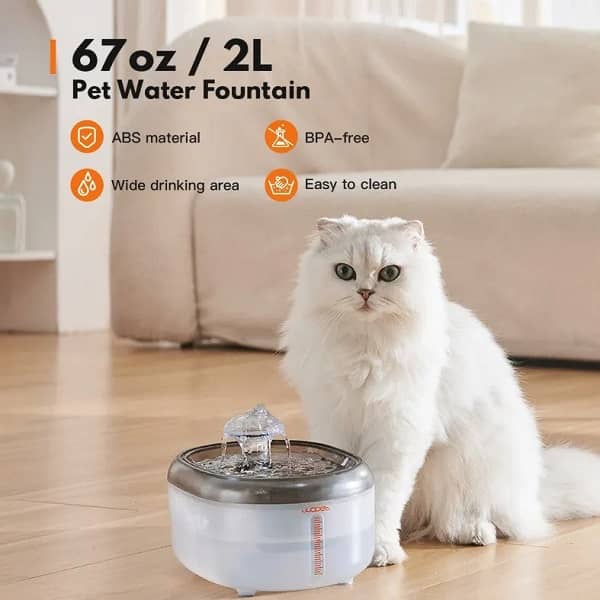 My previous cat fountain used carbon-filled filters with fabric covers that needed to be changed every month. It was advised that the pump of this device be partly dismantled and scrubbed once a month since it lacked a filter.
At the same time, I scrubbed the tank's interior thoroughly to get rid of any mold spores and a strange dead fly that had found its way in near the carbon filter's pancake shape. It was necessary to thoroughly wipe down the fountain cover, filter holder, and two plastic tubular components.
The Wopet W300 plastic Cat fountain requires significantly less maintenance. A full 3 months are the lifespan of the primary filter. I advise washing the fountain tank, fountain cover, and foam filter on the pump once every thirty days. In much less than five minutes, you can finish this routine maintenance.
FAQs of the W300 Plastic Fountain
Do vets recommend water fountains for cats?
Keeping your cat hydrated is important for its health. But most of the time we forget to give them water to drink due to our daily busy schedule. So, that's why many doctors advise buying water fountain so your cat can drink water whenever they want. The unique design of these fountains encourages cats to drink more and stay healthy.
Is Ceramic or Stainless steel better for cat fountain?
Stainless steel water fountains are much better than ceramic or plastic-made water fountains because they are more hygienic. Bacteria from cat saliva and leftover food cannot penetrate the hard stainless steel surface, therefore they are clean.
How often should I change my cat's water fountain?
If you are using a fountain to provide water to your pet, be sure to disinfect it at least once per week and replace the filters on the fountain on a regular basis. By giving him access to fresh water every day and a clean water bowl, you can maintain your furry family member content and healthy.
Why does my cat's water fountain get slimy?
The cat saliva combines with the water in the water reservoir to create slime, which needs to be cleaned frequently. The pump's interior becomes slimy, immediately tainting the newly filled water. Recirculating fountains must be filled frequently, typically every day.
Is tap water bad for cats?
Giving your animals hard water is generally not going to cause any issues, according to experts. Iron, magnesium, and calcium, the minerals found in hard water, shouldn't have any negative effects on health. Untreated tap water should not be given to cats or dogs, according to some veterinarians, but this is not due to the minerals.
Final Verdict
The Wopet W300 is an excellent water fountain for cats in my opinion. My cat really enjoyed drinking from it and it does an amazing job of attracting the cat. This thoughtfully constructed fountain offers high-quality water while necessitating the least amount of monthly maintenance. The Wopet W300 is recommended.