All cats deserve plenty of fresh air and space to play, sunbathe, stretch and gaze. Although they have a well-deserved reputation of being flexible and pretty acrobatic creatures, it is still important to keep them safe. I am sure you do not want them testing out their jumps on balcony railings, as it could lead them to a fateful fall.
To prevent them from falling, you need to turn the balcony space into a closed-off, comfortable patio for your cat. However, there are better options to safely let your cat on the balcony, where they cannot jump off. Stick around to find out a lot more options you can try.
Don't Let Your Cat Use the Balcony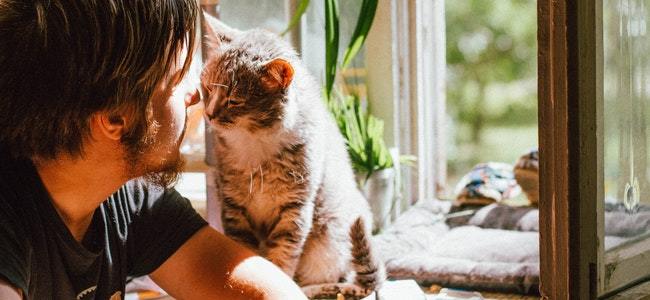 This first method requires the least effort and no money since your cat will hardly access the balcony. It works best when you are not around to supervise your cat. However, make sure that they get plenty of outdoor light and fun which helps with their state of wellness. Here are some ways to keep your cat away from the balcony.
1. Closing windows and securing window screens.
You can close your windows and their screens to prevent your cat from penetrating through the window into the balcony. With this, ensure that your house has other windows to get fresh air to get through. I would say that this method is advantageous as it is easy to implement however, your house may not get enough fresh air. In this case, you can include some plants in your house for clean air.
2. Open the top part of the window.
If your windows have bottom-top sliding techniques, you can open the top part of the window. The opening may not be big enough to allow your cat to penetrate. However, if they can fit through the space, be present to prevent any accidents.
3. Seal any other gaps in your house.
You may already know how flexible cats are, hence they can fit even in the smallest spaces. Since you want to keep them away from the balcony, you need to close window gaps in your house. It may be dangerous for your cat to get through an opening that you were oblivious of. Therefore, close any gap that could cause your cat to get to the balcony.
Building A Catio
Constructing a cat enclosure is more of a permanent solution that works best if you plan on living in a residence for a long time. I would not recommend this method for a temporary stay as you will not get the value of your investment. A cat enclosure surrounds the openings of the balcony by sealing them off with screening sheets and mesh nets.
You can approach this by creating a DIY project out of the entire process. It has its benefits because you can customize the catio to match your home's design. Also, you can dictate the number of hours you out into the work. However, it will cost you DIY tools, screening, mesh nets, and lumbers that are quite expensive altogether. While you can get DIY tutorials online, you can also seek professional assistance.
Mesh Your Balcony
Mesh screens, especially heavy-duty ones are just as effective as building a catio. They are full-proof since you can install them behind the balcony railings to prevent your cat from falling off. However, doing this could mean that the balcony will seem restrictive for you.
If you share the balcony with your cat, it is best not to use a mesh as it will block your high-point view. Although I must say, it is effective while keeping your cat from jumping off the balcony rails.
Bird Netting
Although bird netting is not as secure as mesh screens, it can be coupled with mesh screening to save your cat when it falls. Since bird nests are flexible with plastic composition, they can hold your cat if it penetrates through the balcony railings. It is best for providing extra security for your cat.
Using Cages and Tepees
For the longest time, pet owners have used cages to secure the movement of their pets. In the same way, you can use cages and tepees when taking your cat to the balcony. Yes, it will prevent the cat from jumping off the balcony, but they may feel restricted.
You can include toys and treats to keep your cat entertained. Also let them out once in a while to stretch. However, you cannot apply this method when you are far from the house.
Using A Leash
Using a leash on your cat works best if you have trained them to feel comfortable with having one tied to their neck or leg. The leash allows your cat to move within the balcony lengths. Therefore, its length should not exceed that of the balcony railing to ensure your cat does not jump.
[amazon box="B07SC7WFQN" template="vertical"]
Create A Cat-Friendly Surrounding
It applies both indoors and outdoors. You can have soft blankets and pillows laid out on the balcony where your cat can relax. Also, you can add a chair where you can unwind together while brushing their fur and dotting them. Another option is planting a garden with cat-friendly plants such as cat grass, catnip, spider plant, and lemongrass.
Close Off Composite Pits and Garbage
Composite pits may attract rodents that your cat wants to hunt throughout the day. It may lead to them jumping off balcony rails, so make sure that you cover garbage. Also, your cat may eat something unhealthy, causing complications.
Conclusion
As you are trying to keep your cat from jumping on balcony rails, remember to entertain them. You may find that they love chasing rodents and insects while jumping on rails since it is in their nature.
So, to beat the urge that they have to explore and run wildly, you can try to keep them indoors first. Afterward, you can set up your balcony to be cat-friendly by having all the toys, pillows, and plants they need.